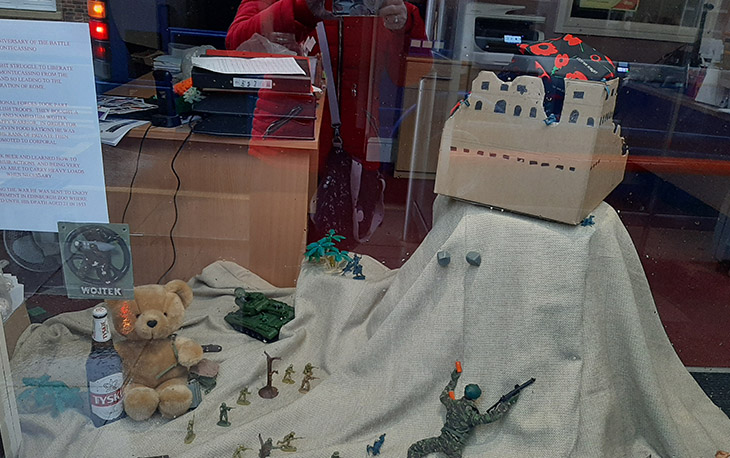 The theme for Remembrance Day 2019 was 'Working Together'. Funeral Arrangers Helen and Tee decided to do just that by building a replica of the battle scene at Monte Cassino as part of their window display at the Salisbury branch featuring a very unusual soldier.
Wojtek was a Syrian brown bear bought, as a young cub, at a railway station in Hamadan, Iran, by Polish II Corps soldiers who had been evacuated from the Soviet Union. In order to provide for his rations and transportation, he was eventually enlisted officially as a soldier with the rank of private, and was subsequently promoted to corporal.
He accompanied the bulk of the II Corps to Italy, serving with the 22nd Artillery Supply Company. During the Battle of Monte Cassino, in Italy in 1944, Wojtek helped move crates of ammunition and became a celebrity with visiting Allied generals and statesmen. After the war Wojtek lived out the rest of his life at the Edinburgh Zoo in Scotland.
At the Wilton branch they celebrated Land Girls and Lumber Jill's. Edith Olivier who was one of the founders lived in Wilton. Helen's Grandmother Alice Edwards served in the Timber Corps of the Women's' Land Army as a 'Lumber Jill' and kindly loaned her medals, badges and membership card for the display.
Remembrance Day is a day upon which we remember the sacrifices made by our Armed Forces community, the British and Commonwealth veterans, the Allies that fought alongside us and the civilian servicemen and women involved in the two World Wars and later conflicts.